Monterey, California, USA
Monterey Jazz Festival , September 15-17, 2017
Jazz festivals of a certain age—say, 50 years and over—have a certain distinction and right to celebrate their own stories and histories. The Monterey Jazz Festival, which turned the ripe age of 60 in 2017, possesses a particular bragging right to its in-house legacy, rightfully proud of its status as "the world's oldest continuous jazz festival." True, the Newport Jazz Festival, on the opposite coast of the United States, was there first and provided a role model for how to operate, but that festival's checkered history and roaming locale, while Monterey's festival has soldiered on through the years turning into decades. It made perfect sense, then, that for its grand 60th anniversary program, this keenly history-conscious festival opted to take stock of what has been and what the festival has come to represent in the jazz world. Longtime artistic director Tim Jackson, who took the reins from founder Jimmy Lyons and re-energized its artistic vision, steered away from new, contemporary sounds. Generally, the Monterey festival model in the Jackson years has been an admirable cross-section of traditional to adventuresome music. In a way, the 2017 model was a lesson in the art of the tribute. Starting at the beginning, with the festival-opening set of Regina Carter's fine tribute to Ella Fitzgerald, the main arena program alternately paid homage to Dizzy Gillespie (long a favorite visitor and part of a mutural admiration society at this festival), and a tribute to Sonny Rollins (still with us, but not performing much). In effect, the tribute spirit is also very much part of the world of Dee Dee Bridgewater's current project—around her old school R&B album Memphis… Yes, I'm Ready—which veers away from jazz, per se, and channels her powerful soul singer cred towards the music of her youth.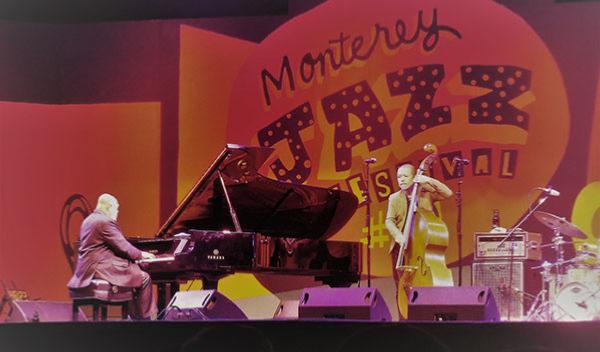 At the Gillespie tribute, stellar pianist Kenny Barron led the charge as musical director, hosting guest trumpeters Sean Jones, Roy Hargrove, Nicholas Payton, but one of the most memorable moments came with the great Barron's own solo piano version of "Con Alma," a quixotic, virtuosic and seamlessly musical treatment. Rollins, who has also supplied many an enlightened performance on the main arena stage over the years, was the hero in the margins of the late Saturday night tribute which featured tenor players clearly impacted by Rollins (which would, of course, cover a wide swath of tenor saxophonists, post-1960). Branford Marsalis, Joe Lovano, and Joshua Redman all had their articulate musical say on the subject of Sonny, and converged for an all-for-one on the finale of "St. Thomas." But the real high point of the set came courtesy of Sonny's generational ally Jimmy Heath, who gave "Round Midnight" a beauteous, personalized sheen and depth.
Even if this program leaned backwards more than usual, there was plenty of inspiration to be soaked up around the grounds of the festival, on its five different stages. Contemporary vision-wise, a sure highlight was Sunday night's appearance from Vijay Iyer's dynamic, cerebral-yet-visceral sextet (with drummer Marcus Gilmore keeping a straighter pulse than the thunderous brainiac Tyshawn Sorey), whose latest album, Far From Over, was one of 2017's most artful achievements. The intriguing bassist-leader Linda May Oh's impressively fluid Quintet, with guitarist Matt Stevens and saxist Ben Wendel as a winning "front line," which also included the bassist herself. The set was accessible and adventurous, by turns.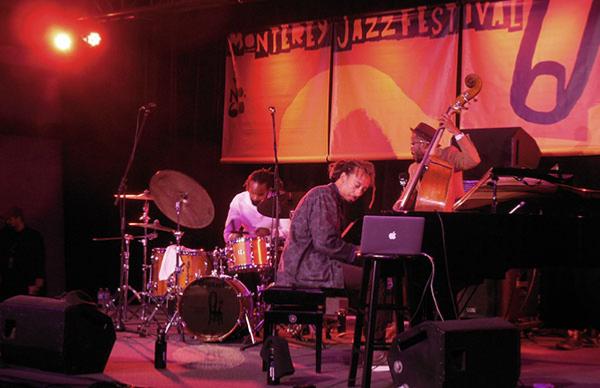 In the piano and small group-oriented Pacific Jazz Café (remodeled, and formerly known as the Coffee House venue), the fare ranged from Joel Frahm's tribute to Stan Getz (yes, another tribute, and a heartfelt one) to underrated veteran pianist Joanne Brackeen and trio and Ella-esque vocalist sensation Roberta Gambarini. Another blast of jazz from a younger perspective, but with a generationally-integrated outlook, came in the form of pianist-bandleader Gerald Clayton—also an artist-in-residence at the festival. His own trio played at the Night Club venue on Friday, lavishing in a repertoire which can be both muscular and melodic-logical, and the pianist and his trio-mates returned to the big stage on Saturday night, for a special brand of a Big Show. Gerald's father, of course, is famed big bandleader and bassist John Clayton, who was the artist chosen for Monterey's annual commissioned work this year. Drawing on the sleek, swinging resources of his Clayton-Hamilton Jazz Orchestra—the finest big band on the west coast, out of Los Angeles—as well as the next-gen talents and instincts of his son at the piano, Clayton the Elder crafted an ambitious suite called "Stories of a Groove." The grooves in question shift, from blues to swing and more edgy, syncopated turns. Introducing the suite, John Clayton commented that, after securing the commission, "Tim Jackson invited me to make reflections on the current political climate." He paused, for effect. "Maybe he shouldn't have done that." We can read statements about mood-groove swings, turbulence and the importance of keeping a musical faith in the midst of White House horrors, but mostly, "Stories of a Groove" speaks from a musical heart and head.
On the big stage at Monterey, there can be intimate dimensions and close dialoguing, as well. This truth was proven this year via the empathetic duos of Brad Mehldau and mandolinist Chris Thile—a new pairing of the genre-bending musicians, linked to a Nonesuch album—and the old friends meeting of pianist Herbie Hancock and Chick Corea, issuing a bold, sensitive and refreshingly inventive set. The Hancock-Corea showing, closing out the festival on a strong note, could also be viewed, from a particular angle, as a tribute to a festival all about tributes and tributaries: both have played important roles in Monterey Jazz Festival culture over the years, and the playful, easily virtuosic charm the two summoned up together somehow felt like another historic Monterey Moment, in the real-time

making.


© Jazz Hot n°681, automne 2017
---