Montréal, Québec, Canada
Festival International de Jazz de Montréal, June, 28-July, 8 2017
All was right and good with the world of the Montreal Jazz Festival this summer, which, as is customary, once again demonstrated why it is a model of how a jazz festival should work. The wheels of organization are well-oiled, a several-block radius of Montreal—around its vibrant and enculturated Place des Artes zone—is closed off to traffic and outfitted with outdoor stages feeding the ear-hungry public who flock to the area. This year, we could also partake of the mutant, semi-indigenous cuisine of "pulled pork poutine", while dancing in the streets.


Programming-wise (which means the more substantial indoor venue program), the festival is nothing short of a marvel and a reliably mirror of the given jazz scene of the moment. The Montreal festival, if wanting in the more avant-garde niche, wisely calls on old favorites and following newcomers and new trends across the spectrum of styles and energies in jazz of a particular season, and this year was no exception.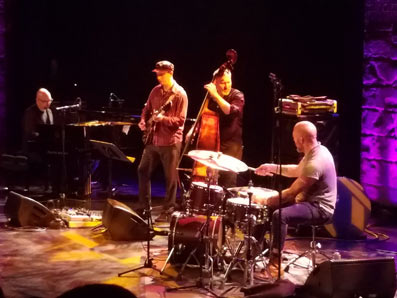 Among the strong sounds I encountered in my four-day trip there, the typically strong opening weekend blast of the ten-day festival, were the new "all-star" project HUDSON (Jack DeJohnette, John Scofield, Larry Grenadier and John Medeski), stellar and actively maturing trumpeter-leader Ambrose Akinmusire's quartet, and a brilliant duet from guitarist Bill Frisell with his new comrade, bassist Thomas Morgan.
Somehow, though, a prominent air of bittersweet hovered over the festival's first three nights, at least for those of us who feel that the unique trio The Bad Plus is one of the more fascinating adventures in jazz of this Millennium. The Bad Plus, a malleable, mobile variation on the venerable "piano trio" context is losing its pianist, Ethan Iverson, who will be replaced by Orrin Evans at the end of this year. That major change imposed a wistfulness on its Montreal fare-thee-well "Invitation" engagement of three distinctly different concerts in the festival's reformed church venue, the Gesù (where much of the more cutting edge music happens)
An opening concert with just the trio reminded us of the group's democratic yet subversive creative proposition as a unit: pianist Iverson, never one for overstatement or cheap theatrics, but sprinkled with irony and invention, has formed a pact with bassist Reid Anderson (probably also the finest composer of the three) and drummer David King, creating music at once flexible, emotive, iconoclastic and self-definingly hip: music true to its own artistic terms. The set list included Anderson's "Dirty Blonde" (the only tune which was repeated over the series, a "repertoire repeat" syndrome many another artist has been guilty of), the trio's illuminating and fresh version of "Time after Time" (the Cyndi Lauper song) and Iverson's vignette-ish "Do Your Sums/Die like a Dog/Play for Home" and King's rough 'n' rangy "Wolf Out."

But, as they showed in Montreal in 2017 as well as in a previous "Invitational" residency here, the threesome can readily adapt to situations where they morph into a "supportive" band for guest soloist, in this case the nimble, Bird-influenced alto saxist Rudresh Mahanthapa and guitarist Kurt Rosenwinkel. With Mahanthapa, the group took on a night of tunes by great alto saxists, principally Charlie Parker and Ornette Coleman, with Lee Konitz' witty "Subcouinscious-Lee" in the mix. On the third night, they leaned into the world of guitarist Kurt Rosenwinkel, with moodier contemporary tunes suiting the guitarist's flowing virtuosity and earnest-leaning musical voice.
Over at the still relatively new and architecturally and acoustically impressive showcase concert hall, the Maison symphonique de Montreal (home of the Montreal Symphony), gracefully-aging elder statesman Charles Lloyd opened his set with reverential respects paid to the recently passed-on pianist of note Geri Allen, who played in the Lloyd band for a few years. Lloyd was here with his "renewed" New Quartet--" Gerald Clayton replacing Jason Moran on the piano, with the sturdy rhythm sectional force of bassist Reuben Rogers and commanding drummer Eric Harland holding down the foundation for Lloyd's assorted peregrinations.
But the real excitement and heart of this two-act came later, with HUDSON (so named because all the players live in the idyllic Hudson Valley, above the ruckus of NYC). As heard on their debut album and especially live, the foursome get along famously, bringing an organic post-Miles Davis atmosphere to the proceedings (both DeJohnette and Scofield belong to the Miles alumni club). On material including Jimi Hendrix songs—thankfully, lesser-covered numbers like "Wait until Tomorrow" and "Castles Made of Sand"—Scofield's tasty new original "El Swing," "Woodstock" and Bruce Hornsby's metrically odd "Dirty Ground" (with DeJohnette singing, modestly but sincerely), HUDSON decidedly made a good impression, inviting wishes for continuing life-- in the fickle soil of jazz groups comprised of busy leaders in their own right
As usual, various jazz factions were represented in Montreal. Christian McBride's drummer-less Tip City trio smoothly ventured over jazz and pop terrain, and the jazz-meets-groove factor was handled nicely by the Robert Glasper Experiment and Donny McCaslin's intriguing ideas on the subject of a rock-injected jazz aesthetic. McCaslin is gaining a rightful high profile lately, thanks to his role in David Bowie's brilliant swan song album, Black Star, and McCaslin's set hit a high point at midnight with a cathartically hyperventilating version of the old Bowie classic "Look Back in Anger." The next night at the Gesu, the McCaslin band's versatile and very fine drummer, Mark Giluiana (also an important player on Black Star), brought his own quartet, with an interesting slalom skill between traditional jazz values and contemporary energies.
Rosenwinkel himself was in good stead with his strongly Brazilian-flavored new project Caipi, in the central festival building's downstairs L'Astral nightclub space. Quite in contrast, the Maison symphonique space offered its epic ambience to a double-header of singular artists with big ideas—rising left-of-jazz star Colin Stetson's captivating solo saxophonic work (including gymnastic circular breathing-fed bass sax sonics), and young keyboardist dynamo Tigran Hamasyan's solo adventure, on piano, electronics and voice—mostly satisfying, but sometimes awash in shtick.
As pianists go, the big news in Montreal this year was Iverson and the soon-to-morph status of the Bad Plus—jazz' aging "new hope" (all of 17 years without a personnel shift). No doubt, Iverson will continue to work in his unique way—as he has with the Billy Hart group and elsewhere, and solo work to come? No doubt, the Bad Plus will continue to work for the good of provocative new jazz (or become badder, in either definition?). But for now, we savor the chance to take in the waning live opportunities to catch this great band in transition, and Montreal's
Gesù
was a duly ripe contemplative temple for three inspired musical nights this summer
.
Jos

ef Woodard
Traduction et Adaptation Serge Baudot
© Jazz Hot n° 681, automne 2017
---