Monterey, California, USA
Monterey Jazz Festival, September 16-18, 2016
While it may not have been the best festival, overall, in the recent spate of years in its long history, the Monterey Jazz Festival circa 2016—now up to its record-making 59th annual--quite nicely articulated the admirable balancing act pulled off by its long-time and ever-mindful artistic director Tim Jackson. Among the director's directives in putting together a festival program each year is to address the many facets and angles making up this beautiful and confusing thing called jazz, from old (for example, 83-year-old Quincy Jones) to young (and very young, as with the over-capacity crowd thronging to catch 13-year-old piano sensation Joey Alexander), mainstream to avant garde (as in Christian McBride's piano trio, in sharp contrast with pianist Kris Davis' adventuresome, inherently risk-taking trio), and all points in between.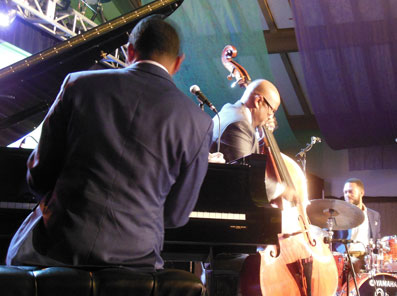 And then there is the forward-thinking stroke of the festival's annual commissioned work, which varies wildly from year to year. In 2016, the prestigious spot was blessed with some inspired creative sculpting by Wayne Shorter, and his captivating chamber-meets-quartet piece "The Unfolding." This was clearly the highlight of the '16 Monterey Festival, which takes its place part of a growing body of orchestral-colored inventions by Shorter, whose band is by nature loose and exploratory—and not always connecting with the higher muse—whereas his craftily scored-out larger compositions, such as the beautiful and aptly-named "The Unfolding," showcase his broader compositional genius, mixed in with moments of freewheeling impulse in the moment.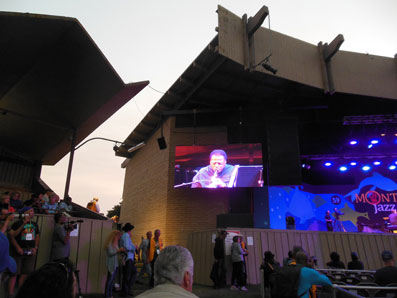 Not incidentally, Jackson himself was briefly warmed by the spotlight on the main arena stage this year, not just in his familiar role as emcee, but as recipient of the George Wein Award, named after the still-active patron saint of jazz festival-making. The accolade, given to him with a group of well-wishers and festival reps including longtime festival supporter and ally Clint Eastwood, Quincy Jones and others, is well-deserved. Jackson is a festival-tender whose work serves as a model for how it should properly be done.

As happens on the jazz landscape more generally, some of the most intriguing music heard here didn't necessarily draw the biggest crowds. Billy Hart's band, one of the most intriguing in current-day jazz, pulled in about a half-house in the "Night Club" venue. But the now 75-year-old drummer's band—blessed with the highly musical Mark Turner on sax and rangy virtuoso Ethan Iverson on piano (flying over from his set with his band the Bad Plus)—pushed the creative envelope while keeping the swing imperative propelling forward, in new ways. In the Coffee House venue, reserved as a showcase place for piano trios, it was great to hear long semi-absent Stanley Cowell's heady playing again, and Davis' trio—with the remarkable Tom Rainey on drums and rhythmic shape-shifting—provided some of the most challenging and rewarding music of the weekend.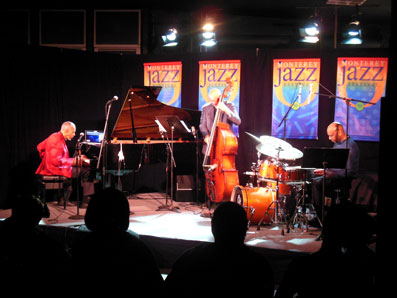 Of wider audience interest were acts like two major vocalists--Cécile McLorin Salvant and Gregory Porter--who have rightfully enjoyed swift upward trajectory in jazz lately.

Pat Metheny returned to the festival with a half-new band—bassist Linda Oh and British pianist Gwilym Simcock with Metheny regular Antonio Sanchez on drums--and a set leaning on many of the guitarist's older material, counter to the prolific guitarist-composer's usual tactic of coming up with new bodies of music for each new project..

Quincy Jones was a livewire and busy presence around the Monterey County Fairgrounds all weekend, starting with his ceremonial and "spiritual guidance" magnetism at a big band tribute to his '60s A&M records, Walking in Space, Gula Matari, and Smackwater Jack. An ensemble featuring the likes of Hubert Laws, leader Christian McBride, supremely melodic chromatic harmonica master Gregoire Maret, saxist James Carter and guest vocalist Valerie Simpson revisited Jones' influential early hybrid jazz-soul music, capturing both a timeless charm and a somewhat harmonically static retro vibe.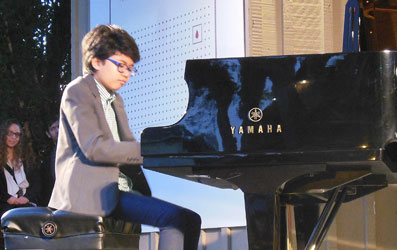 Aside from the youth-fueled phenomenon of the startlingly virtuosic mainstream jazzer Joey Alexander, just barely into his teens, the youth brigade also included the dynamic and gifted Elena Pinderhughes, on flute and vocals. As a side person, Pinderhughes has made her way around the jazz scene, playing with Christian Scott, Kenny Barron, Stefon Harris and others, but also has an impressive progressive-jazz/R&B sound to call her own, as heard in her Garden Stage set, and in close artistic ties with her brother, the impressive keyboardist Samora Pinderhughes.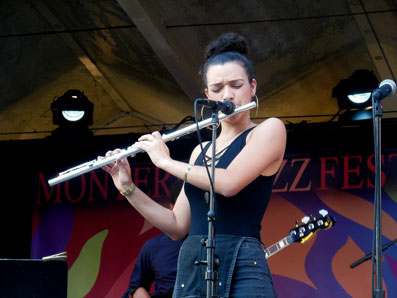 From another corner of the twentysomething talent corner, the gymnastically nimble and self-reliant solo artist, the British Jacob Collier, bedazzled the crowd with his festival-closing set. Aided by an elaborate, interactive video system, which effectively multiplied his presence by ghostly additions, the keyboardist/guitarist/percussionist/vocalist/athletic over-achiever served up dizzying renditions of Stevie Wonder's "Don't You Worry 'Bout a Thing" and Gershwin's "Fascinating Rhythm." Splashy and techno-amped up, Collier's performance was commanding, if a bit sterile. Now we'd like to see if he plays well with others.

Officially, the artist-in-residence was multi-talented drummer/composer/bandleader Teri Lyne Carrington, whose Mosaic project played the main stage, and who also drummed with the promising young Next Generation Big Band on Sunday afternoon.

But another recurring, many-hatted artist of note here was "showcase artist" Joshua Redman, one of those artists, like his fellow nearby Berkeley High School alumnus Ambrose Akinmusire, has a Monterey track record going back to his playing here in his high school jazz band.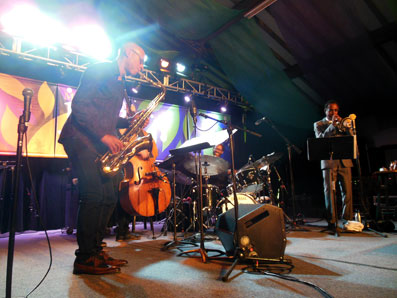 This year, Redman showed off his innate versatility—and recent context-juggling tendency—by putting in a witty and mind-tweaking set with Bad Plus Joshua Redman (who put out a fascinating and fresh album on Nonesuch last year) and his own Quartet, but most excitingly, with the new band Still Dreaming. This band, with Redman, drummer Brian Blade, cornetist Ron Miles and bassist Scott Colley, is a luminous new-old equation, a "tribute band to a tribute band," as Redman told the crowd. That earlier band was Old and New Dreams, with former Ornette Coleman sidemen (Dewey Redman, Charlie Haden, Don Cherry and Ed Blackwell) paying homage to Ornette, sans Ornette, and making a fresh sound along the way. Of course, Dewey is Joshua's father (the younger saxist has been reconsidering his link to his father's influence more of late), and Colley was an avid protégé of Charlie Haden, and Miles a major Cherry fan. Together, the modern musicians are continuing the legacy of Old and New Dreams, with original twists, renewing the "new" factor.

In a way, Still Dreaming and Shorter's "The Unfolding" served as ideal and handy metaphors for what the Monterey Festival is all about: it's a yearly tribute to a deep and multi-dimensional music, which is continually adding its own dimension to the happy, evolving pile of jazz' content and contexts.
Josef Woodard
Photos © Josef Woodard

© Jazz Hot n° 677, automne 2016
---