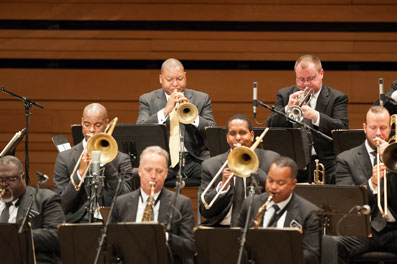 Montréal, Québec, Canada
Festival International de Jazz de Montréal,
29 juin-9 juillet 2016
It is possible to view the summer jazz festival circuit as a vast eastward, continent-hopping wave of musical energy which has settled into a conventional, seasonal phenomenon over the past several decades. That circuit is an important component of the jazz map, and its very DNA. What begins with the impressive Canadian chain of festivals, starting on the western fringe of Vancouver, sweeps across Alberta, Toronto and the grand, intelligent and logistically seamless pageantry of the great Montreal festival before moving in an easterly fashion onto the European festivals.
Once again, the Montreal festival, in its 37th edition this year, proved its might and artistic worth as a literal geographical and cultural centerpiece of the world's jazz fests, a dense but orderly and well-organized survey of what's best about jazz at a given moment. Circa 2016, the short list included Wynton Marsalis' Jazz at Lincoln Center, the next generation promise of the Blue Note 75 Band, Chick Corea in trio mode (with Christian McBride and Brian Blade), wunderkind Joey Alexander, and a personal favorite, saxist Chris Potter--here demonstrating his commendable abilities and flexibility in the challenging "chordless" trio format.
Montreal's festival is no stranger to the wise idea of presenting pop, R&B and other music off to the side of jazz, proper, as a way to subsidize and lure in a crowd with would otherwise have no interest in a jazz festival. Mass audience bait this year came in the form of artistically valid names, such as Brian Wilson and Melody Gardot. But the festival never sacrifices or skimps on its core mission, to present a swath of some of the finest and most significant jazz artists of the day—and of both contemporary and vintage relevance. Fans of the left end of the spectrum and the avant garde might feel left out, as the contemporary programming has been all but excised from the roster, but virtually all other corners of the jazz art was in the houses and stages.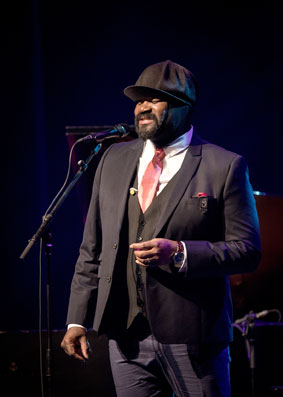 This year, the opening concert walked a fine line between jazz and pop, in the form of vocalist Gregory Porter, fast becoming one of the most popular of "jazz" singers, but whose appeal stretches into the broader forum beyond the strictly jazz-minded audience. In his admirable original material, Porter's links to the legacies and obvious influences of Bill Withers, Marvin Gaye and Donny Hathaway tug on soul-loving ears, while his limber phrasing, improvisational fluidity (his album title Liquid Spirit is an apt description of his gift) and harmonic language taps the essence of jazz.
In concert at the Theatre Maisonneuve, in the festival's central, multi-venue hub of Place Des Artes, Porter started off on a heralded note when artistic director André Ménard presented him with the festival's Ella Fitzgerald Award. "I'll take it," Porter said, with a sly smile. "It also belongs to my band. It will stay at my house, though." Porter's big night in the big room was in contrast with a different brand of vocal stylist, the Cyrille Aimee, whose set list at the L'Astral nightclub ranged from Michael Jackson's "Off the Wall" to Corea's "Light as a Feather" (channeling Flora Purim). Her variations on the theme of "gypsy" hot jazz, looping strategies and theatrical gestures blended nicely with her personal brand of a musical menu.

Another night, another signature singer, but from different idiomatic angles: Rufus Wainwright, making good on his art pop-meets-opera promise in the large Salle Wilfrid-Pelletier. This was a sentimental occasion, in terms of cultural civics. Raised in Montreal—in a musical dynasty as son of Loudon Wainwright III and the late Kate McGarrigle, and brother of the talented and underrated Martha—has carved out a unique musical life for himself, working from sophisticated pop ("Poses," "Cigarettes and Chocolate Milk," "California") to an ambitious opera of his devising, "Prima Donna," about Maria Callas—offered here in a multi-media version. A show-capper of his singular version of "Hallelujah," by Leonard Cohen (another famous Montrealer), brought family members Martha, Lily and Sylvia onstage to help out.

In the ever-intriguing "Invitation series" of concerts, the festival's first half cast its spotlight on the multi-style trumpeter Christian Scott (followed by a three-concert spread from Kenny Barron, but I had left by then). Scott's band, featuring the dazzling and fast-rising young flutist Elena Pinderhughes and his nimble sax foil Braxton Cook, ventured through repertoire both electrified and post-mainstream, as part of the trumpeter's current operative concept of "stretch music." The next night, guests began to appear: first, seven-string guitarist Charlie Hunter, who functions best in groove-lined and funk-flavored material, and for the final night, the vocalist Lizz Wright, a mid-career artist finding herself on a deeper level lately.

After the generous and effusive host Scott sang her praises and cited her profound inspiration on his music, the elegant and earthy singer told the crowd "for the first time in my life, I'm the oldest person on stage." Her featured tunes included a newly-fitted take on Neil Young's "Old Man" and the gospel-fired "Freedom" and "Surrender," as her temporary band of mates built for her a firm and soulful foundation.

Marsalis' JALC big band, still one of the finest in the land and the world, played to a mostly different kind of crowd in Montreal's architecturally and acoustically enchanting new showpiece concert hall, Maison Symphonique de Montreal (home of the Montreal Symphony, for one). The band was all dressed-up, sartorially and musically, with somewhere apropos to go. As is this band's wont, jazz roots and ancestry mixes in with modernity—usually as written by band members.
In concert, the band veered from Jelly Roll Morton ("the first intellectual, thinking jazz musician," Marsalis commented) to Don Redman's arrangement of "I Got Rhythm," and the more recent aesthetic field report of Wayne Shorter's "Armageddon," smartly arranged by trumpeter Marcus Printup. From within the ensemble, Victor Goines "Crescent City" luxuriated in rich timbres and waltz timing poise, while Ted Nash's "Jackson Pollock" (from Nash's art-minded Portrait in Seven Shades) was almost comically dizzy, speckled with speedy flurries like action painting and hosting a fine solo by trumpeter Ryan Kisor.

On the following night, a mid-sized ensemble represented another strata of jazz culture, that of young but established and solid players making up the new Blue Note Records generation. Blue Note 75 Band refers to 2014's 75th anniversary of the august jazz label, but the special grouping marshalled an artistic strength and ensemble chemistry warranting continued life. That group: keyboardist Robert Glasper, trumpeter Ambrose Akinmusire, saxist Marcus Strickland, bassist Derrick Hodge, drummer Kendrick Scott and the slightly older Lionel Lueke on guitar, impressive players all, and with a group think sensitivity connected the dots and artistic forces onstage.

Here, they paid respects to the Blue Note archival soil, kicking off with Wayne Shorter's "Witch Hunt," and wended through originals from the respective artists' own nascent Blue Note catalogues. Highlights: Akinmusire's reflective "Henya," Scott's skittering post-hard-bopper "Cycling through Reality" and Glasper's handsome "Bayyinah," opening with some dexterous inter-weavings for solo piano. They closed out with an encore of a non-Blue Note-connected classic, Ornette Coleman's "Turnaround," playfully turning the familiar turnaround segment of the melody into a new manually looping motif.

At the risk of over-emphasizing a brief moment of the concert, and the festival, that hypnotic "Turnaround" loop potentially symbolized the underlying, over-arching message of a festival as sweeping and embracing as this. Jazz is a loop, after all, a chorus of ghostly voices and ancestral musical memory, funneled through the arrival and evolution of "new things" down the line. Old met and embraced, validated and updated new in Montreal, as usually happens here each summer..
© Jazz Hot n° 677, automne 2016
---