Johnathan Blake
Firm Roots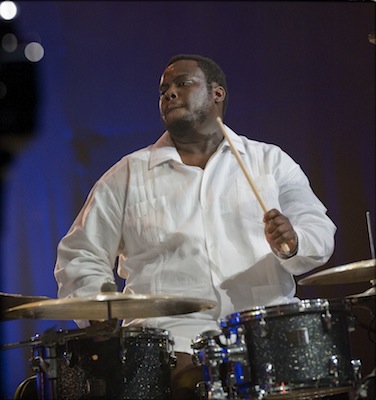 Drummer Johnathan Blake was born under the lucky star of jazz. When he was born on July 1, 1976 in Philadelphia, his father,
the
violinist John Blake, Jr., joined Grover Washington, Jr.'s band (1976–1979) and three years later McCoy Tyner's (1979–1984). Johnathan Blake grew up around Philadelphia's top-notch jazz musicians and he never forgot them, as
is
reflected in the title of his new leader album
Gone, but not Forgotten
, a celebration of the musicians he knew and loved.
As a leader, he took extreme care to record his two excellent albums (the first one was The Eleventh Hour in 2012). As a sideman, he remains a very busy musician as Tom Harrell's regular drummer since 2005, Kenny Barron's since 2008, Ravi Coltrane's since 2012 and gradually Dr. Lonnie Smith's; not to mention the other gigs, tours and recording sessions. Before that, he honed his skills while working with Oliver Lake Big Band and Mingus Big Band.
At 38, the drummer has already a very strong experience. With his passionate, subtle style and accomplished technique, Johnathan Blake has a deep understanding of the history of jazz and continues to deepen his creativity as a leader and a sideman.
We met Johnathan Blake while he was in Paris with Tom Harrell's quintet, an opportunity to talk about his experience as a musician and to reflect on the most memorable encounters of his life, starting with his father John Blake, Jr., who passed away on August 15, 2014 at the age of 67 (Jazz Hot #668). Gone, but not Forgotten...

Interview by Mathieu Perez
Photos Umberto Germinale, Jos Knaepen, Mathieu Perez


© Jazz Hot #670, Winter 2014-2015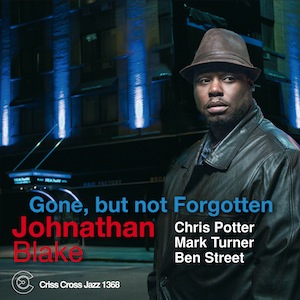 Jazz Hot : What was the inspiration for your new album Gone, but not Forgotten?
Johnathan Blake: It's a tribute to musicians that have passed away. It's a celebration to them and to their music. And it was a tribute to the musicians that I've had a chance to play with. There's a tune by Jim Hall (Jazz Hot #571). I had the opportunity to work with him not too long before he passed away, maybe a year or so. It's also a tribute to the Philly musicians who passed away and with whom I also had the honor of sharing the bandstand One of them was Charles Fambrough. He and my father used to work together in McCoy Tyner's band. Charles was responsible for getting my father the gig with McCoy. Charles also gave me my first gig. I also had the pleasure to play with Philly musicians like Trudy Pitts.
Were you closer to any of those musicians in particular?
I consider Charles almost like an uncle. He would come to my parents' house and we would get together for dinner. He was a close friend. I also got closer to Trudy and to her son TC III who's a great vocalist. Trudy played at my grandmother's funeral. They were all family. I consider them very close.
The album also features two of your originals, "Born Yesterday" and "The Shadower."
Yes, there are older pieces. One of them is called "Born Yesterday" and is dedicated to Jimmy Greene's (Jazz Hot #578) daughter Ana Grace1. The second piece is "The Shadower" and is dedicated to Dwayne Burno2. He was another Philadelphian who I had the pleasure to play with. Actually I picked that tune because the last time I played it before I recorded was at a concert at Dizzy's and Dwayne was the bassist on it. I felt it was the right tune to pay tribute to him. He was such a great musician and a lover of the music. He ate, slept and breathed music. He's definitely a hero of mine. It's an honor for me to call him my friend. His family and I are really tight. His wife Wendy and their son Quinn are very good friends.
Sometimes we talk about these musicians for a while and then months later we don't talk about them anymore. I wanted to do this record and make a point to really have their music and their legacy live on. I also wanted to connect the younger generation to some music and to some musicians that they might not be familiar with. I wanted to do it that way. I hope that when people listen to it they get that sense of a celebration of these people.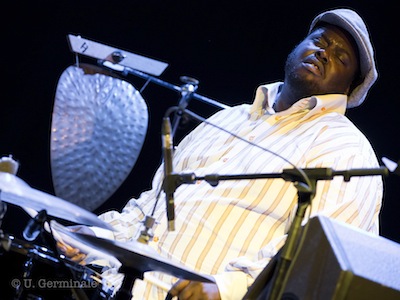 You chose tunes by Eddie Harris, Cedar Walton, Sid Simmons, to name a few; did you play the tunes their way or make it your own? What was your approach?
Not necessarily but it naturally happens when you're playing the music of people you knew. At the same time it's important to put your own stamp on it so to speak. I wanted to find the tunes that were right in this configuration, reeds, bass and drums. I picked up tunes and kind of revamped them so to speak. My version of "Firm Roots" is more fit for the two horns so you don't miss the chords much.
Cedar Walton (Jazz Hot #520) passed away a year ago, what memories do you keep from him?
I saw Cedar's very last set at the Vanguard before he passed away. The music was still there though he was weak. That night, my wife and I went to see Chris Potter and it was packed. For Cedar's gig, there was hardly anybody in the audience. This is a living legend, why aren't there some of the younger musicians hanging out here? The lesson is if you have the opportunity to do something, don't put it off. I was always brought up around older musicians. You show your respect and you go and check those guys out. That's how you learn about this music.
Did you ever have a chance to play with Horace Silver (Jazz Hot #528)?
I got to see Horace Silver play several times. He actually called me when I was still in school, at William Paterson, and he wanted me to try out with his band. This was like in 1996. I think I was out of town at the time. When I came back, I got this message on my answering machine: "This is Horace Silver. I'm starting out auditions in New York and I would really like you to be a part of it. Please come out. You might be the drummer for me." I remember calling him right back… But he got sick and it all got cancelled. But I cherish this message on one of my cassette tapes.
You picked Chris Potter (ts, as, fl, Jazz Hot #585), Mark Turner (ts, ss) and Ben Street (b), the same musicians as in your first album, The Eleventh Hour, with the exception of Kevin Hayes (p) and Jaleel Shaw (as). Why do you consider them to be the best musicians for you?
I respect them so much as musicians and I knew they would bring to life what I was trying to do in the set of music that we chose. I knew these guys would capture what I wanted. They have such a wide melodic and harmonic pallet when they play. They went beyond what I could think of. It was an amazing session. Mark and Ben and I played trio before. I loved playing in that setting.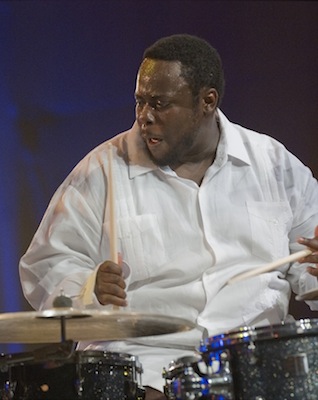 What kind of a leader are you? Did you give them much direction during that session?
I didn't say too much. When you're leading a band, you pick the musicians that you know. And they know what to bring to the table. That's what you call these musicians for. I don't like putting too many restraints on people or tell them to play a certain way. I want them to feel free to do what they want. I know I'm going to be pleased with whatever they do. And that's was happened with this recording. It was a great experience. A lot of the tunes that we did were first takes. We caught the idea right away.
Have you all played this album in concert yet?
We haven't done a CD release party yet. We're all kind of busy! I've been out of town for the last month. Chris works with Pat Metheny. Mark and Ben are doing various things. We're looking to September to do a release.
Do you play together often?
I haven't played with Chris that much. We have done some gigs in the past but I play more regularly with Mark and Ben.
When you record an album as leader, how much do you take from the leaders that you work with, like Tom Harrell and Kenny Barron?
I take a lot. Tom Harrell and Kenny Barron have been around for a long time so I watch how they build sets. Someone like Kenny Barron reads the audience right away. He knows when to play a standard or an original. So I watch how they engage with the audience. When I'm going to the studio, I guess I have that in my subconscious and it helps. With this particular record, I really thought about what song I wanted to start with. We started with "Cryin' Blues" by Eddie Harris. It's a blues and then we can go to some other things. It's open. I watch how those musicians make their sidemen feel comfortable. Once you're relaxed, it makes everything so much easier. The session really went smoothly. Nobody was uptight. It was all about making some music.
When did you first put a band together?
Early 2000, I got together musicians that I think would work well. I didn't want to hurry up and put a band together. That's the natural progression. I wanted to think about each individual that I chose. And I wanted to make sure that we would work well together. It's not just about getting together and making music. It's about a relationship, creating a family and a sense of brotherhood. I saw a lot of my peers making records right away but I didn't want to do that. I wanted to put together a band that sounded like a band. I wanted to have a distinctive sound and I think we really captured that.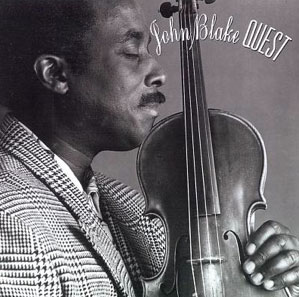 Your dad being a musician, John Blake, Jr., you were exposed to jazz at an early age.
When I was born in 1976, my father got a gig with Grover Washington, Jr. I was being strollered to these concerts at an early age. We were close to the band. There was Tyrone Brown on bass, Richard Lee Steacker on guitar, Leonard Gibbs on percussion, Pete Vinson on drums, Sid Simmons on keyboard and my father on keyboard and violin. All these guys were a family on the road because they were so tight. And it extended. Grover was a family oriented person. So as much as he could, he would try to invite all the wives and the children out when there were tours. Everybody became very close. And that band stayed together for about three years. Even after the band broke up, my father remained close with most of the musicians in the band. Some of the musicians in Grover's band appeared in his records when my father recorded as a leader. So these guys knew me from when I was born. It's the same with McCoy Tyner's band. I think my dad when through two different bands with McCoy. He would come to the house with his wife and son from time to time and have dinner with the family. I was surrounded with music at an early age.
Were you always drawn to drums?
I was always fascinated with rhythm. First I started with violin but my parents always tell me that when I would hear music on the radio or on a record I would take out spoons and start beating the rhythm. It took a while for them to buy me a drum set (laughs). At age 10, I started taking lessons. I was really serious about it. In the ninth or tenth grade, I decided to stop playing the violin that I had been playing since age 3. I wanted to focus on drums.
Who were your heroes at the time?
If we're talking specifically about drummers, the first influences were the Philly drummers of that time like Mickey Roker, Edgar Bateman, Bobby Durham (Jazz Hot #647), Leon Jordan, Philly Joe Jones, etc. I grew up listening to the drummers that played in Grover's band or in McCoy's band. I was drawn to them and also to the drummers of the 1970s like Idris Muhammad.
Is there a specific sound to Philly musicians?
People always say there is a certain sound of Philly. Just like there is a certain sound of New Orleans or Chicago. All these areas have specific ways to internalize how to play with straight ahead jazz music. It's hard to explain.
It's not tangible.
Someone tried to explain one time in an interview. He said it's like being behind the beat but with the urge of getting to the next measure. But even that is not very convincing. Sometimes I don't even have to say where I'm from. People hear it. I just played with Benny Golson for the first time at the North Sea Jazz Festival. After we played, the first thing he said to me was "That Philly sound!" (Laughs) It was the first words out of his mouth. We just laughed about it afterwards! So I guess you can hear it right away!
How did you like playing with Benny Golson (Jazz Hot #616)?
It was great! He tells a lot of stories. It's such an education to be around him. It's fun to see how he connects with people. I had the opportunity to work with a lot of older musicians, Tom Harrell, Kenny Barron and most recently with Dr. Lonnie Smith. They are from the same generation. I've been learning a lot from them. You can't put a price on these situations that I've had the opportunity to be in. It's such a learning experience.
Were you always drawn to the veterans?
Of course! You need to know what came before in order to get a grasp of the current stuff. And these guys were on the forefront of that. When I was growing up, I wanted to learn where this music was coming from. And when I became serious about making my career and my way of life, I felt it was my duty to study this history.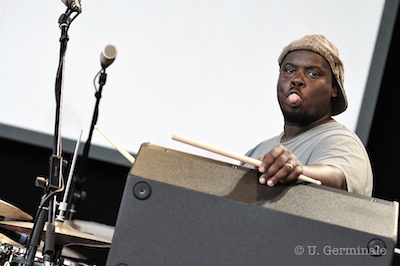 You studied at William Paterson with Rufus Reid, John Riley, Horace Arnold and Steve Wilson. What have you learned from them?
I learned so much especially with Rufus. He really helped put focus on my playing.
What kind of teacher is Rufus Reid (Jazz Hot #607)?
He's a hands-on teacher. One day I came to combo class and all he had for drums was a cymbal and a hi-hat. He said: "You're gonna play with a cymbal and a hi-hat and nothing else. And you're gonna make the band swing. So I want you to focus on your playing, get the clarity of the cymbal beat and lock that in with the hi-hat." So for months that's all I did. That hands-on teaching really helped me to focus on my playing and to shape the sound. He wanted me to be aware of the sound that was getting out of the instrument.
What about John Riley?
John Riley was also very instructive. I was very familiar with his books but we never worked on any of them. We talked a lot about developing your own sound on an instrument.
Horace Arnold?
Horace was my first teacher when I got to William Paterson. He was also a very hands-on teacher. We talked about the clarity of the playing and how to pay attention to the sound of the instrument. We worked a lot on time issues. Those lessons still remain with me to this day.
And Steve Wilson (Jazz Hot #577)?
Steve Wilson was a combo teacher. I like the type of musician that can play a gig but also explain very well what they do on stage and convey to the students so that they understand what's going on. If you're going to do this as your profession, these are the steps you need to take. He took me under his wing so to speak. Eventually he started calling me for gigs. Being on stage with him was like a class! I was learning.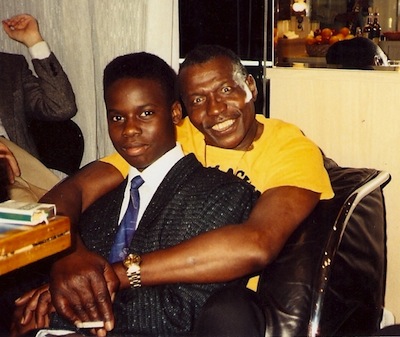 Who is your favorite drummer?
My favorite drummer is Elvin Jones (Jazz Hot #562).
Did you ever have a chance to meet him?
He's one of those musicians that whenever he was in town, I would go and see him and hang out with afterwards. The first time I met him I was 13 or 14. My dad was playing with Steve Turre's band at the Blue Note. Elvin had his Jazz Machine. After the set, my dad took me to meet him. Elvin was my hero. My dad took me upstairs and introduced me as an aspiring drummer. And right away, Elvin said: "Come here! Give me a hug!" He was one of those people when you met them for the first time you felt you knew them forever. We sat and talked for a while. My dad left. It was just he and I. And then he said I was going to sit on stage with him. He pulled me up on stage and I sat next to him for the whole set.
Who else was in the band?
There was Willie Pickens on piano, Chip Jackson on bass, Ravi Coltrane, Sonny Fortune and I think someone else. Elvin asked me what I wanted to play. At that time, my favorite tune of his was "Three Car Molly." So that's the first tune we played! It was an amazing experience! That night, we took a picture with Elvin. When I look at it, it brings back so many memories. It feels like yesterday.
Was your first professional experience with Oliver Lake (Jazz Hot #482)?
Yes, it was around 1994, 1995. Oliver Lake had a weekly gig with his big band at the Knitting Factory. He asked me to join his band. It was a great experience. It was challenging music.
Did you know him before that?
I had met Oliver 3 or 4 years prior to that. I used to do every summer the Jazz Camp in Montclair3 run by bassist Chris White. I was 15 or 16. I got to meet Oliver there. Chris White, Steve Turre, Jimmy Owens, etc, lived in the area at the time. Later on, when I moved to the area to go to school, Oliver found out I was in town. He started calling me for rehearsals at his house and eventually I joined the big band.
Were you playing all originals?
It was all his original music for his big band and I learned how to play with a big band.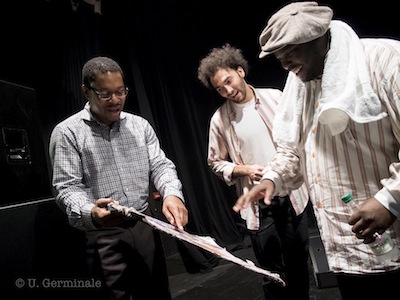 What was his style directing a big band?
It was interesting. He gave a lot of direction but it was open at the same time. It was amazing. Actually the way I wound up playing with the Mingus Band (Jazz Hot #532) was because of Oliver's big band. John Stubblefield (Jazz Hot #623) was one of the saxophone players. He had heard of me and contacted Sue Mingus. He told her to check me out. That's how I got the gig.
What was your knowledge of Mingus' music at the time?
I had studied a lot of his music. At William Paterson, bassist Adam Linz had started a Mingus band group with some of the students. He had arrangements of Mingus. But even prior to college, I had checked out a lot of his music, records like Ah Um. I was very curious and I loved Dannie Richmond. So when I started playing with the Mingus Band, I felt like I had some references. I had to figure out how to play with a big band, how to drive the band and give them that push and energy. For me, it was a challenge.
What did it teach you about the role of the drummer?
Your job is not to be just a timekeeper. It's about giving that extra energy to the musicians. And they rely on that. So if you're sluggish, the band is going to sound sluggish. If you're powerful and you give them the energy, the band is going to be full of energy. I learned at an early age that this is how you drive a band. Later on, when I started to work with smaller groups, I learned my role and what it means to be a drummer in these bands.
At some point, while you were still in college, McCoy Tyner (Jazz Hot #618) asked you to join his band. Is that correct?
He asked my father (laughs). I had started to work with the Mingus Band. It must have been during my second year of college. We had a tour in Japan. It was around 1997. McCoy was on the bill. He had never seen me play. I remember him being there sitting on the side of the stage watching me play. Every night they had like an all-stars jam session. I got picked to play drums with McCoy, Maceo Parker, Makoto Ozone and Michael Brecker. It was crazy! After that tour, I went back to school. One day, my father picked me up. While driving, he told me that McCoy had called him and that he was really impressed by me and he'd like to put me on his band. My father told him no. It was more important to finish school. I was devastated! (Laughs) It just wasn't the time.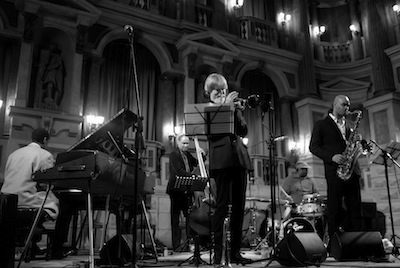 When did you become of a member of Tom Harrell's band (Jazz Hot #594)?
I joined Tom's band in 2005. I went to see him play with his quintet at the Village Vanguard. At the time, the band was Jimmy Greene, Ugonna Okegwo, Xavier Davis and Quincy Davis. But when I got there, it was a different band. Then Ugonna suggested to Angela, Tom's wife, to check me out. For my first gig with Tom, it was another completely different band. We played in Marblehead, MA. Then I got asked to play a week with him at the Vanguard. That's when the band started to come together. There was still Jimmy Greene at the time. We did a couple tours and then about six months after that Wayne Escoffery (Jazz Hot #619) joined the band. Ugonna remained steady in the band. Xavier Davis left and Danny Grissett came in.
Is there any rehearsal when working with Tom Harrell?
Sometimes we'll get together and do one rehearsal like a week before an engagement at the Vanguard or something.
How much new material do you play?
Tom is always writing music, in the airplane, at the airport, everywhere. It's a challenge (laughs). Sometimes you get attached to certain tunes and the next time you play, the music is completely different! But I love it! I respect him so much as a composer and as a player. I've learned so much with him.
How challenging is it to play his music?
Some of it is very challenging. It sometimes takes a while to get under your belt. After a while, you start to see certain aspects of his writing that makes it a little easier to get inside. But it's still a challenge! Some tunes are more complicated than others. He writes for the members of the band. It's got to a point where he can't hear anybody else play this except for the members of his band just like Duke Ellington and Billy Strayhorn wrote pieces for Johnny Hodges and the other musicians that they knew so well. Tom trusts us and knows what we are capable of as musicians.
How much direction does he give?
His charts are very clear. Everything is right there. He writes the perfect charts! (Laughs) He should have his own notation program.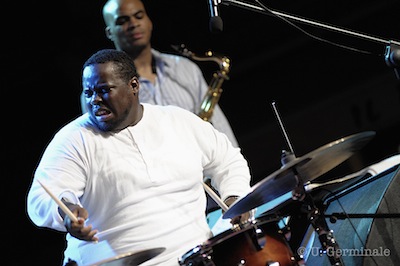 Do you prepare your solos with him differently than you do with others?
I try to have a melodic idea in mind but I don't like to play the same thing night after night. Tom is inspiring. He really challenges himself as a player. He can play the same tune night after night but it's always going to sound different.
How early did you start composing?
Lovett Hines4 encouraged us to start writing. I think my first composition dates back to junior high school. Lovett taught me how to formulate chords and melodies. And then it expanded with time. I really enjoy composing.
How do you approach composing as a drummer?
I used the piano to write. I'll start a melodic idea or I'll have a rhythmic groove of mine.
Do you have any technical discussion with your dad about the process of making the music?
Totally! I'm so fortunate to have him and he was exposed to a lot of things at a young age too. He equipped me with the knowledge that he had. My father is a well-educated man and he always put heavy emphasis on education. He always encouraged me to study.
In 2005, you studied at Rutgers University, why did you choose to go back to school?
Rutgers has this great program where they give you an aid. It's a way to keep you in town because you have to turn down some jobs. Also I had been travelling so much, I felt that I needed to take some time off. My wife was pregnant with our first child and I wanted to be around. And I wanted to deal more with composition. At some point, I felt like I wasn't producing music the way I wanted to. I got to study with Stanley Cowell and Conrad Herwig.
How did you study with Stanley Cowell (Jazz Hot #586)?
I took a private composition course with Stanley. Each week he would give me a certain compositional device to try to use. And each week, I was coming back with some tunes. It was challenging and it was hard to come back to school after 6 years of graduation. I also studied with Victor Lewis (Jazz Hot #584), Ralph Bowen and Conrad Herwig. I value my time there. It was a beautiful experience. Afterwards, I had a better idea on how to shape songs. And around that time I started to work with Tom Harrell.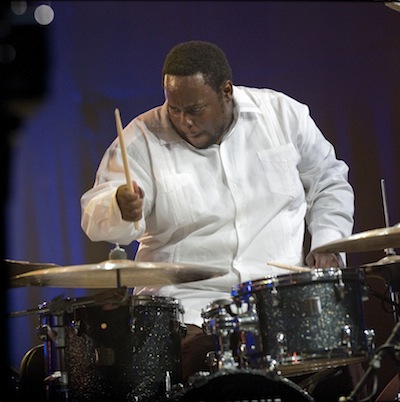 Do you teach?
I teach privately. I had a couple students but I have a tight schedule. When I teach lessons, it helps me to focus. Sometimes when you play so much you don't have the time to think on what you are doing. I wouldn't mind having a regular teaching gig but I like travelling at the same time.
How did you join Kenny Barron's band (Jazz Hot #575)?
He was using Ben Riley for a while and then he needed some time off. And Kenny's wife suggested that I work with him. My first gig with him was for a European tour with Ray Drummond. It was an amazing experience. After that he started calling me more. Around 2007, 2008, I became a regular member of his trio and eventually his quintet.
What is his style?
I love it! Sometimes his trio will do more standards. With Kiyoshi Kitagawa (Jazz Hot #638), we always encourage him to perform more some of his originals because he has some great tunes. Sometimes he'll save his originals if we're playing in quartet or a quintet setting. I love his way of leading a band. He is very open. He has a reason why he calls you. He expects you to be able to play. If you couldn't play, he wouldn't use you. He leaves you to your own judgment about what's going to feel good on a bandstand. He is a very opened bandleader. He doesn't dictate what you are supposed to do. He expects you to know it.
Did you prepare to work with musicians such as Tom Harrell, Kenny Barron and Dr. Lonnie Smith (Jazz Hot #580) before joining their band?
I always try to do some form of preparation. I was familiar with Kenny's music but I did go back to studying more his compositions.
Why do you think Kenny Barron doesn't play more originals?
I'm not sure. Kenny is such a laid back person. He might feel more at home playing standards. Like any artist, sometimes you are shy about playing your own compositions. Maybe those musicians feel they don't measure up to whatever their expectation is. Musicians are so exposed. One time with Kiyoshi we were talking him out to some originals. So for the first set we did all standards and for the second one we played all originals. It was amazing.
How much space does he give you?
He sits the music in front of you and allows you to create. For us, improvising musicians, creating on the spot, that's our job. That's Kenny belief: you do what you want with this, just make it feel good. I could count how many rehearsals I've had with him since I joined the band. There has been about two. He might have a couple new tunes or ask us to bring some music. And even there, he won't tell you how to play. You'll see what you come up with. If it's something he is really not feeling, he'll ask you to try something different. It's very open. I've been in some situations where the leaders give a lot of directions. But, you know, that's their take on how they want their music to sound. I don't necessarily like playing like that that much…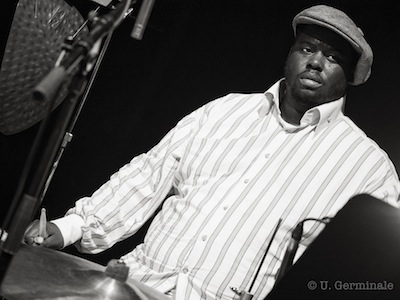 What is your most challenging experience as a sideman?
Musically? Recently a challenging gig for me was to play with Clarence Penn (Jazz Hot #527) and Maria Schneider (Jazz Hot #597) for two nights at the Allen Room. I had to learn all that music and play it like if I had been in the band for a long time. At least that's my approach. It was challenging but it was also beautiful experience. In terms of musical styles, I played 5 years with Russell Malone (Jazz Hot #629). Sometimes he would put more limitations on me. But this is how he chose to lead his band and that's what he wanted. That's cool. When you're a sideman, you're at the mercy of the leader. You have to make them feel comfortable. Playing with the Mingus Band was also a challenge. We were trying to play the music of a man who already had passed away. And it's a big band, 14 people that have different ideas how the music should sound and they are not afraid to say what they think.
After working with big bands and different units for years, what is your approach of rhythm today?
I gain inspiration from African and Brazilian rhythms and try to incorporate all those styles with jazz. I listen to everything that surrounds me.




1. Twenty-six people were killed at the Sandy Hook Elementary School in Newtown, CT, on December 14, 2012. Among them was Ana Grace (2006-2012), the daughter of saxophonist Jimmy Greene and Nelba Márquez-Greene.

2. Bassist Dwayne Burno died on December 28, 2013 at the age of 43 from complications of kidney disease.

3. Jazz Opportunity for Youth at Montclair State College, NJ

4.
Saxophonist Lovett Hines (
Jazz Hot
#658) created the Lovett Hines Youth Ensemble in Philadelphia.


Contact

www.johnathanblake.com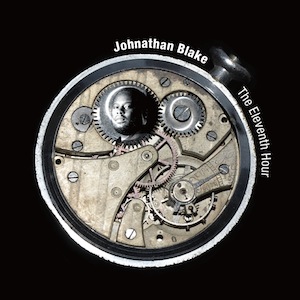 Discography (selection)

Leader
CD 2012. The Eleventh Hour, Sunnyside Communications 1304
CD 2014. Gone, but not Forgotten, Criss Cross Jazz 1368

Sideman
CD 1996. Norman Simmons, The Heat And The Sweet, Milljac 5637686635
CD 1999. Mingus Big Band, Blues & Politics, Dreyfus 36603 2
CD 2001. Mingus Big Band, Tonight at Noon… Three of Four Shades of Love, Dreyfus 36633 2
CD 2001. Monday Michiru, Episodes In Color, Sony Music Associated Records 1388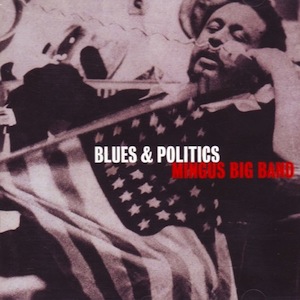 CD 2002. Q-Tip, Kamaal The Abstract, Jive ‎88697-55519-1, Battery Records 88697-55519-1
CD 2002. Alex Sipiagin, Mirrors, Criss Cross Jazz 1236
CD 2003. Mingus Big Band, The Essential Mingus Big Band, Dreyfus 36628 2
CD 2003. Jordan Hall, Something Different, Artist One-Stop 54422
CD 2004. Mingus Big Band, I Am Thee, Sunnyside 3029
CD 2004. Jaleel Shaw, Perspective, Fresh Sound 222
CD 2004. Rob Schneiderman, Back In Town, Reservoir 178
CD 2004. John Blake, The Traveller, autoproduit
CD 2005. Monday Michiru, Routes, Geneon 1048
CD 2006. Mingus Big Band, Live in Tokyo at the Blue Note, Sue Mingus Music 3042
CD 2006. George Colligan, Blood Pressure, Ultimatum 619922
CD 2006. Russell Malone, Live at Jazz Standard (Volume One), Max Jazz 602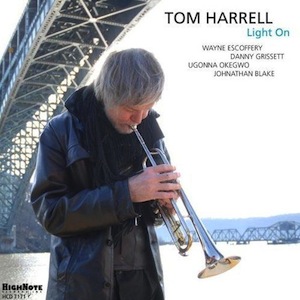 CD 2007. Russell Malone, Live At Jazz Standard (Volume Two), Max Jazz 604
CD 2007. Omer Avital, Arrival, Fresh Sound World Jazz 035
CD 2007. Tom Harrell, Light On, HighNote 7171
CD 2008. Jaleel Shaw, Optimism, Changu Records 43987
CD 2008. Wayne Escoffery & Veneration, Hopes & Dreams, Savant Records 2090
CD 2008. Paul Olenick, Contact, Fresh Sound New Talent 315
CD 2008. Jack Walrath, Ballroom, Steeplechase 120341
CD 2008. Donny McCaslin, Recommended Tools, Greenleaf Music 8698001008
CD 2008. Hans Glawischnig, Panorama, Sunnyside 1179
CD 2008. Oliver Lake Organ Trio, Makin' It, Passin' Thru Records 41225
CD 2008. Joe Locke, Force of Four, Origin Records 82511
CD 2009. Ronnie Cuber, Ronnie, Steeplechase 31680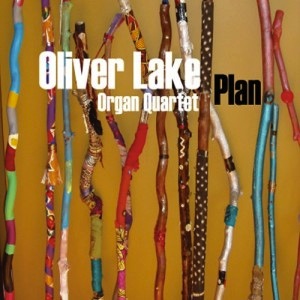 CD 2009. Tom Harrell, Prana Dance, HighNote 7192
CD 2009. Alex Sipiagin, Mirages, Criss Cross Jazz 1311
CD 2010. Tom Harrell, Roman Nights, HighNote 7207
CD 2010. Michael Janisch, Purpose Built, Whirlwind Recordings 4613
CD 2010. Oliver Lake Organ Quartet, Plan, Passin' Thru Records 41226
CD 2011. Tom Harrell, The Time of the Sun, HighNote 757222
CD 2011. Benjamin Koppel, Brooklyn Jazz Session, Cowbell Music ‎61
CD 2012. Ronnie Cuber, Boplicity, Steeplechase 31734
CD 2012. Tom Harrell, Number Five, HighNote 7236
CD 2012. Marianne Solivan, Prisoner of Love, Hipnotic Records 5637921808
CD 2013. Tom Harrell, Colors of a Dream, HighNote 7254


Vidéos
Kenny Barron, « Calypso », Live à Jazz'inIt, Vignola (Italy, 2010)
Kenny Barron (p), Johnathan Blake (dm)
Ravi Coltrane Quartet, « Coincide », Live à Jazzdor Festival, Offenburg (Germany, 2012)
Ravi Coltrane (ts), David Virelles (p), Dezron Douglas (b), Johnathan Blake (dm)
Dr. Lonnie Smith Trio, « Beehive », « My Favourite Things », Live at Porgy & Bess, Vienne (Autria, 2013)
Dr. Lonnie Smith (org), Jonathan Kreisberg (g), Johnathan Blake (dm)
*