Montréal, Quebec (Canada)

Festival international de Jazz de Montréal, 28 june-7 july 2013

© Jazz Hot n°664, été 2013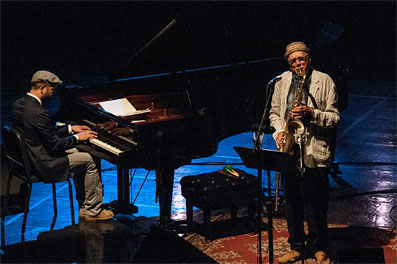 What is it that makes the Montreal Jazz Festival, one of the world's great jazz festivals, such a powerhouse and paradigm in the festival scene? The answers are at once elusive and obvious. Objectively speaking, there are artistic logistical virtues in Montreal, which turns 35 years old next year. For its indoor concerts, it boasts a dense program featuring some of the strongest jazz in a given season along with up-and-comers and a few risky bookings in the mix, and treats the masses to ongoing free music on outdoor stages, and all transpiring in a several block radius in the downtown nucleus around the Place des Arts. In an ideal world, every country (U.S. included) should have a Montreal Jazz Festival for bragging rights and the cultural good.

Another way to measure the strength of this festival, launched humbly and bravely by André Ménard and Alain Simard, is to take note of the breadth of musical inspiration available to the avid, hungry-eared and venue-hopping festgoer on a single night. On the Friday night of the festival's first weekend this year, for instance, I started by taking in Charles Lloyd's quartet—one of his greatest groups, with pianist Jason Moran, bassist Reuben Rogers and ever-versatile drummer Eric Harland—in a set ending with an encore of the Beach Boys classic "Caroline, No." Lloyd's unique verbal patois entered the picture at set's end, when he intoned "I don't want the gendarmes to come and move us offshore. Thank you for your beautiful vibes. It means a lot to us."

Beautiful vibes of another, multi-voiced sort, courtesy of Wynton Marsalis' Lincoln Center Jazz Orchestra met up with the blissful ambience of a great new venue in Montreal, the glorious new Maison Symphonique de Montreal, well-suited to Marsalis' sleek, well-dressed and always highly musical big band enterprise. I steered myself down the Place des Arts compound to the Theatre Jean-Duceppe to take in one of this jazz year's highlights, veteran Cuban maestro Chucho Valdes & the Afro-Cuban Messengers, making a beauteous, rhythmically potent sound, geared around the excellent new cultural-hybridizing album Border-Free.

Meanwhile, a bit later in the evening over at the still-new nightclub venue L'Astral, the cause of female-based jazz was going strong with the dynamic saxist Tia Fuller's band, also including the robust Tyner-esque pianist Shamie Royston (whose husband, drummer Rudy, was the token male in the outfit). After an impressive set by Fuller, I made my way across the outside stage area—where Canadian indie pop artist Feist was artfully serenading the multitudes, feistily and melancholically—to get to Ravi Coltrane's show. Coltrane, whose Blue Note debut and general galvanizing energy in his career makes him more important than ever, gave perhaps the strongest performance by a tenor saxist at Montreal, whose music sounds alternately intellectual and emotive, mixing up traditional and experimental ideas to moving ends.
Voila, a five-part selective summary of matters that matter in the jazz world circa 2013, in the course of a night's festival ramblings.

Speaking of tenor saxists, stars aligned for one of this year's "Invitation" series of concerts, landing on Charles Lloyd in the midst of his 75th birthday year (the progressive master Vijay Iyer was the second "Invitation" artist, representing the younger, more risk-taking lion faction). Lloyd's post came at a time when his status in the jazz world is at one of its higher points within the past quarter century of his on-and-off public career. Lloyd, who was given the festival's Miles Davis Award before his first show this year, has appeared in Montreal on many occasions, and with different projects, but this was something timely and special, to hear him play with his regular quartet one night, and the next, with his malleable trio Sangam (with Zakir Hussain and drummer Eric Harland—a group which also played the year Hussain was the "Invitation" artist-of-choice).

On night three of the Lloyd stint, he mixed up duos and trios, first in tandem with ongoing comrade Moran (as heard on the lyrical recent duo album on ECM, Hagar's Song), and then for the first time with guitarist Bill Frisell. On this night, Lloyd and Frisell got along famously, with a rapport reminiscent of Lloyd's old connection with guitarist Gabor Szabo, a connection cemented on a version of the mid-'60s era Lloyd tune "Voice in the Night" and on a probing spin on "Solar." For a first encore, Lloyd dedicated a wistful version of "I Shall be Released" to Levon Helm, the late, great drummer-singer from The Band and an old friend of Lloyd's from his rock world hang days. The old days returned as Lloyd closed his "Invitation" series to the tune of Beach Boys brain trust Brian Wilson's masterpiece "God Only Knows," diffused in that special Lloyd-ian way.

Another tenor saxist in the crosshairs of the contemporary jazz consciousness, Joshua Redman, returned to Montreal—a regular stop for him—in ravishing balladic style, tied to his current project Walking with Shadows. Again in the gorgeous Maison Symphonique de Montreal, and with a chamber orchestra in tow, the affable and sometimes overly derivative Redman demonstrated his matured, lyrical nature. Maybe it has to do with him having graduated from young gun into mid-career stretch.
A very different aspect of pianist Moran's multifarious musical personality came through with his retro yet wild style "Fats Waller Dance Party," through which he somehow channels the effervescent spirit of proto-jazz hero Waller while nodding to contemporary hip hop, all the while accentuating the old jazz imperative embodied in the words "dance" and "party." For much of the set, Moran wore a jumbo, slightly surreal mask of Wallter's grinning, cigar-chomping mug, and added bassist MeShell Ndegeocello to the ensemble mix. In another similar but distinctive way, tenor saxist and restless project-maker David Murray, heading up his Infinity Quartet, engaged the vocalist services of Macy Gray (she of '90s R&B hit "I Try" fame) to do his soulful vocal bidding, surprising us with her deft Billie Holiday-esque moments. Her "In My Solitude" was to live and die for. Who woulda' thunk?

Another female vocalist of note who crossed jazz and pop lines, in her own way, was Korean singer Youn Sun Nah. Backed only by the alwas flexible guitarist Ulf Wakenus, and with a soft speaking voice contrasting her commanding singing voice, she moved with ease between the music of Nine Inch Nails and her own Korean-jazz chemistry.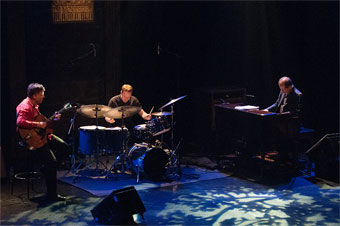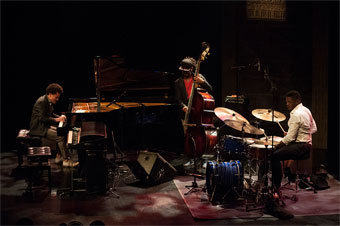 Some of the high points of any year in Montreal takes place not in the large-capacity halls a few blocks away, in the late night slot, in the chapel-like (and defrocked house of worship, in fact) Gesu-Centre de Creativite. Two tasty late night sets this year came from the keyboardistic spectrum. Larry Goldings wonderful organ trio, an all-star threesome with longtime allies, guitarist Peter Bernstein and ace drummer Bill Stewart, gave the organ trio context a new set of clothes.

On the next night in the Gesu, the ever-underrated Jacky Terrasson took the "piano trio" format for a spin of his own devising, stirring up improvisational energies and moving seamlessly between acoustic and electric pianos. With on-the-money bandmates Ben Williams on bass and Jason Faulkner on drums, Terrasson steered the trio through a wild style set list including "Stardust," Wayne Shorter's great "ESP," "Chameleon," "Smoke Gets In Your Eyes" and Michael Jackson's "Beat It," but never with predictability in the house or the mix.

Hearing this level of elasticity and invention, 'round midnight at the Gesu and capping off a full evening of enticements and enlightenments, inspired what felt like the heartbeat of what makes Montreal Montreal, festival-wise.

Josef Woodard