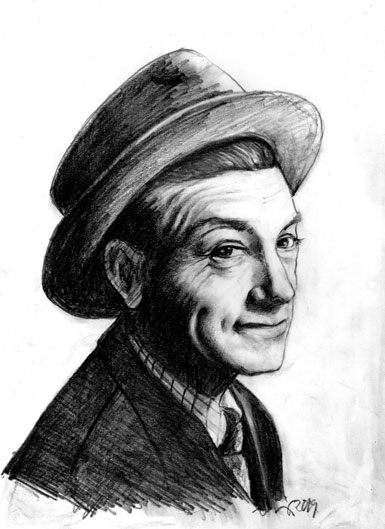 Hoagy Carmichael,
dessin © Sandra Miley
Hoagy CARMICHAEL
Stardust Memories





Mélodiste de talent, clown à la dégaine nonchalante, Hoagy Carmichael avait aussi une profondeur, une épaisseur de vie, une humanité. Sa voix, reconnaissable par ses infléchissements nasillards, moqueurs, roques mais aussi veloutés, sortes de miaulements à intonations variables, traînant sur les notes, servait des textes et des partitions alternant mélancolie, perplexité et loufoquerie, à l'image du
no-sense
des films très rythmés
d'alors, y compris dans les nuances. Une dimension chaplinesque, comme pour
conjurer et dynamiser cette époque inquiétante car secouée par la Grande guerre de 1914-18, puis par la Grande dépression de 1929, par les révoltes inévitables de la faim, par les inégalités, les discriminations ethniques et sociales, pour arriver finalement à
la Seconde Guerre mondiale. Les
artistes détectent, perçoivent et traduisent les émotions de leur temps, aidant aussi souvent les populations à surmonter les cauchemars de l'Histoire, particulièrement dans ce début de XXe siècle. Garder leur mémoire vivante, c'est rester riche de ce qu'ils ont apporté.
Hoagy Carmichael est si présent dans le répertoire du jazz –ses mélodies ont participé à la création de quelques-uns des chefs-d'œuvre enregistrés de son siècle– que nous profitons de son 120e anniversaire pour rappeler le parcours d'un homme pressé qui a choisi,
pour le plus grand bien de la planète,
l'art plutôt que le droit, ce qui lui a aussi bien réussi…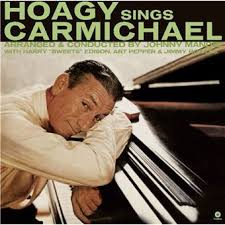 Hoagland (
Hoagy)
Howard Carmichael est né le 22 novembre 1899 à Bloomington, dans l'Indiana. Avec sa mère pianiste de bals et pour le cinéma muet, il fréquente aussi les églises, le voisinage afro-américain et découvre donc le ragtime. En 1916, déménageant à Indianapolis, il rencontre Reginald DuValle (1893-1953, p, acc) qui dirige son groupe, les Blackbirds,
dont on n'a pas de trace enregistrée
. C'est lui qui transmet à Hoagy les premières notions d'improvisation et l'exigence artistique. De retour à Bloomington en 1919,
Hoagy découvre avec avidité les premiers disques de jazz, va
écouter Louis Armstrong jusqu'à Chicago, obtient un diplôme supérieur de droit en 1926. Il crée alors son groupe qui va se produire jusqu'en Ohio.
Hoagy est un homme pressé sous des dehors souriants.

Au printemps 1924, il rencontre Bix Beiderbecke (1903 Davenport-1931 NYC, cornet, p, comp.), une première forte influence, dont il devient l'ami, et pour qui il écrit «Riverboat Shuffle», enregistré par les Wolverines. Hoagy enregistre «Star Dust» («Stardust») chez Gennett Studios en 1927 puis «Washboard», après quoi il quitte son travail juridique en Floride pour la musique et pour New York où il est courtier le jour et musicien la nuit. Il y côtoie, entre autres, Bix Beiderbecke (qui décède en 1931), Louis Armstrong, Henry Red Allen, Bubber Miley, Tommy Dorsey, Mildred Bailey, Benny Goodman, Bud Freeman, Jack Teargarden, Eddie Lang, Johnny Mercer, Joe Venuti, et sans aucun doute beaucoup d'autres de toutes les scènes.

Fréquentant sans aucun préjugé, d'aucune sorte, les artistes de jazz et du spectacle en général comme Paul Whiteman, King Oliver, Louis Armstrong, Benny Goodman, Jimmy Dorsey, Duke Ellington, il enregistre également avec certains d'entre eux.
De 1929 à 1934, il produit une quarantaine de faces chez Victor. Ses mélodies rencontrent un grand succès et deviennent de célébrissimes standards, particulièrement dans le jazz avec «Rockin' Chair» interprété par Louis Armstrong «qui le sauve de la Crise de 1929» selon ses dires,
«Georgia» immortalisé plus tard par
Ray Charles
mais repris dès sa création dans les années 1930 et 1940 par les plus grands artistes du jazz, «Stardust» universellement repris, avec une version légendaire par Lionel Hampton
. Tous les artistes de jazz ont repris ses standards, créant parfois des versions qu'on peut considérer comme des chefs-d'œuvre de l'art musical du siècle.







En 1936, Hoagy part à Hollywood pour travailler pour Paramount. Il devient acteur, fait de la radio et commence à écrire ses mémoires.

Certaines anecdotes font rêver, comme celle où George Gershwin (1898-1937), présent au mariage d'Hoagy Carmichael (14 mars 1936), joue au piano

Porgy and Bess

qui vient d'être créée le 30 septembre 1935

1

. Pour le cinéma, on se souvient bien entendu de sa participation au film de Howard Hawks

To Have and Have not

(

Le Port de l'angoisse

) avec Humphrey Bogart et Lauren Bacall. Il fait des apparitions sur le grand écran jusqu'en 1955.
Deux autobiographies, dont une précoce,

The Stardust Road (1946)

, raconte entre autre sa relation avec Bix Beiderbecke, proposant une autre réalité que la version romancée écrite par Dorothy Baker (

Young Man with a Horn

). Hoagy y raconte sa carrière jusqu'aux années 1940. Dans le film de Michael Curtiz, Young Man with a Horn (

La femme aux chimères

) d'après le roman de Dorothy Baker (qui sera traduit par Boris Vian:

Le jeune homme à la trompette

), avec à nouveau Lauren Bacall et Kirk Douglas, Doris Day, Hoagy Carmichael joue le rôle du pianiste et ami de Bix Beiderbecke.

Il a repris en 1965 cette autobiographie dans une version étendue avec

Sometimes I Wonder: The Story of Hoagy Carmichael

.

En 1971, Hoagy Carmichael est élu au Hall of Fame dans la catégorie des

songwriters

. En 1972, c'est l'Indiana University qui l'honore du titre de Doctor.
La dernière distinction viendra du Newport Jazz Festival qui organise un

Tribute to Hoagy Carmichael

, au Carnegie Hall de New York, intitulé justement: «
The Star Dust Road: A Hoagy Carmichael Jubilee», juste retour du jazz à l'un de ses contributeurs.


Après une vie très active, qui l'a vu également se produire à la télévision, il meurt
le 27 décembre 1981
d'une crise cardiaque à 82 ans dans sa maison de Rancho Mirage, CA. Il est enterré dans sa ville de naissance à Bloomington, Indiana.
Hélène Sportis
Dessin © Sandra Miley
© Jazz Hot 2019
1.
«
But Wad's (Allen) letter informs us that Hoagy eventually found happiness when he married a woman named Ruth. George Gershwin attended their wedding reception, sidled up to a piano, and debuted the leading songs from the yet-unpublished musical we now know as
Porgy & Bess
.
»

2. Le titre de l'article «Stardust Memories» fait référence au titre du film de Woody Allen. On remarquera que le récent film (2019), A Rainy Day in New York, utilise comme thème récurrent le standard d'Hoagy Carmichael «Everything Happens to Me».





BIBLIOGRAPHIE
• The Stardust Road, 1946, Rinehart and Company, New York
• Sometimes I Wonder: The Story of Hoagy Carmichael, Hoagy Carmichael et Stephen Longstreet, Farrar, Straus and Giroux, 1965, 313p
• Stardust Melody: The Life and Music of Hoagy Carmichael, de Richard M. Sudhalter, Oxford University Press Inc., 2002, 446p
Site: The Hoagy Carmichael Collection: http://www.dlib.indiana.edu/collections/hoagy/index.html
http://www.dlib.indiana.edu/collections/hoagy/research/timeline/index.html
Sources: Jazz in the Movies by David Meeker, Da Capo Press, New York, 1982
VIDEOS ET FILMS
• Topper (Le couple invisible), Norman Z. McLeod, 1937, USA, «Old Man Moon»
https://www.youtube.com/watch?v=wqQEpU7qe60
• Hoagy Carmichael, court métrage, avec Jack Teargarden, de Leslie Roush, Paramount, 1939, USA, 9mn36
https://www.youtube.com/watch?v=RRoVitEYbYs
• Soundie «Lazybones», 1941, USA, avec Dorothy Dandridge (danse)
https://www.youtube.com/watch?v=V580Q05J914
https://www.youtube.com/watch?v=wWNoKIrH7ms
• Soundie «Hong Kong Blues», 1943 et 1957, USA
https://www.youtube.com/watch?v=MjmLQAMcmj8
https://www.youtube.com/watch?v=bFxuLnnRbJI
• To Have and Have Not (Le Port de l'angoisse), Howard Hawks, 1944, USA
https://www.youtube.com/watch?v=QLiJl2wb1NM
https://www.dailymotion.com/video/x1zbpv
https://www.youtube.com/watch?v=wFmiYW1z4pA
https://www.youtube.com/watch?v=MTaWCaSdmmY
https://www.youtube.com/watch?v=mFfuUu5xmMA
https://www.youtube.com/watch?v=9C1vJ2Z8aI0
https://www.youtube.com/watch?v=fs4vI2XnQJ4
• Johnny Angel, Edwin L. Marin, 1945, USA
https://www.youtube.com/watch?v=lySarocsLAM
https://www.youtube.com/watch?v=qbCOxSF87TY
• The Best Years of Our Lives (Les meilleures années de notre vie), William Wyler, 1946, USA, 2h 49' 36'',
Minute: 37' 54''
https://www.youtube.com/watch?v=ZsWKL5PLnjI
https://www.youtube.com/watch?v=sIkfIa24K0c
https://www.youtube.com/watch?v=WMy9tDtPlgM
• Canyon Passage (Le Passage du canyon), Jacques Tourneur, 1946, USA, 1h16' 28'', Minute: 15' 26''
https://www.youtube.com/watch?v=IZqEr19GDKI
https://www.youtube.com/watch?v=IQc-VTUCSio
• Night Song (La chanson des ténèbres), John Cromwell, 1947, USA, 1h 42'
https://www.youtube.com/watch?v=U_8Jblk6EFU
https://www.youtube.com/watch?v=rhUUfIDvqI0
• Young Man with a Horn (La Femme aux chimères), Michael Curtiz, 1950, USA, 1h 47' 32''
(voir interview au sujet de Bix Beiderbecke), Minutes: 17mn35'', 29mn25'',1h 34mn
https://archive.org/details/YoungManWithAHorn1950
• The Las Vegas Story (Scandale à Las Vegas), Robert Stevenson, 1952, USA
https://www.youtube.com/watch?v=HjVh3tR7b3M
https://www.youtube.com/watch?v=08RotsdK1z8

• Timberjack (La loi du plus fort), Joseph Kane, 1955, USA
https://www.youtube.com/watch?v=IJRec9sk2_E
• Game TV Show, «Make the Connection», 1955, NBC, USA, Minute: 7mm11''
https://www.youtube.com/watch?v=z8HRo8GJMp0
• Hoagy Carmichael parle de Bix Beiderbecke, Bix, de Brigitte Berman, 1981, Canada
https://www.youtube.com/watch?v=lHzE7E6eQgU
https://www.loc.gov/item/jots.200013871/
UN DISQUE
D'HOAGY CARMICHAEL

Hoagy Carmichael - Hoagy Sings Carmichael
,
Pacific Jazz-1223
Sept. 1956, Los Angeles
Hoagy Carmichael (voc),
Harry «Sweet» Edison-Conrad Gozzo-Don Fagerquist-Ray Linn (tp), Jimmy Zito (btp), Harry Klee-Art Pepper (as), Mort Friedman (ts), Marty Berman (bs), Jimmy Rowles (p), Al Hendrickson (g), Joe Mondragon-Ralph Pena (b), Irv Cottler-Nick Fatool (dm), Johnny Mandel (arr, cond)

Titres: «Georgia on My Mind»,

«

New Orleans», «Baltimore Oriole», «Memphis in June», «Two Sleepy People», «Lazy River», «Winter Moon», «Skylark», «Rockin' Chair», «Ballad in Blue»
https://www.jazzdisco.org/pacific-jazz-records/catalog-1200-series/#pj-1223
https://www.youtube.com/watch?v=j7HsGBJjilQ
https://www.youtube.com/watch?v=YnHPAo7xt-0
https://www.youtube.com/watch?v=xVIQFVv7fk4
https://www.youtube.com/watch?v=FCpb79EceJQ
https://www.youtube.com/watch?v=yg3-I7ks7fw
https://www.youtube.com/watch?v=nCFDXb2B-aY
https://www.youtube.com/watch?v=DJ9Wd7XI7D0
https://www.youtube.com/watch?v=kURFOPxqSkY


QUELQUES STANDARDS D'HOAGY CARMICHAEL…

Quelques standards illustrés par quelques interprétations sélectionnées, dans le jazz principalement, mais il existe d'autres thèmes et des milliers de versions différentes de ces mêmes thèmes, illustration quantitative du rayonnement de l'œuvre d'Hoagy Carmichael…
• Riverboat Schuffle (ou Free Wheeling), 1924
Bix Beiderbecke Wolverine Orchestra, Gennett (1924)
https://www.youtube.com/watch?v=GTnrT3_BLZ0
Evan Christopher live (2008)
https://www.youtube.com/watch?v=cHJK4pIivCI
• Washboard Blues, 1926
Hoagy Carmichael, avec Bix Beiderbecke, Jimmy Dorsey et Tommy Dorsey (1927)
https://www.youtube.com/watch?v=m3SzDoCt7ic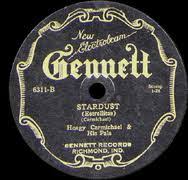 • Star Dust (Mitchell Parish, lyrics), 1927
Hoagy Carmichael (voc, whistle, 1929)
https://www.youtube.com/watch?v=bFxuLnnRbJI
Louis Armstrong, Okey (1931), Django Reinhardt/Coleman Hawkins/Stéphane Grappelli (p), Victor (2 Mars 1935, naissance de Jazz Hot), Lionel Hampton, Coral (Willis Smith, Charlie Shavers…, 1947), Duke Ellington, (Live, 1957), John Coltrane, Prestige (1963)
https://www.youtube.com/watch?v=3Zp-bb68G9s
https://www.youtube.com/watch?v=8J8Jwliox5o
https://www.youtube.com/watch?v=HFeNwm2SnzY
https://www.youtube.com/watch?v=JI5ShftxgSQ
https://www.youtube.com/watch?v=tQjO6KjxDAo
https://www.youtube.com/watch?v=KbFtzeOju3A

• Blue Blood Blues, 1929
Eddie Land et Lonnie Johnson (King Oliver, crt, Hoagy Carmichael, voc-perc, J.C. Johnson, p, 1929)
https://www.youtube.com/watch?v=DTX57pyXoSA
• Rockin' Chair, 1929
New York, 13 December, 1929
Louis Armstrong and His Orchestra
Hoagy Carmichael (voc), Louis Armstrong (voc, tp), Henry Allen (tp), Otis Johnson (tp), Albert Nicholas (cl), Will Johnson (g), Luis Russell (p), Charlie Holmes (as), Teddy Hill (ts), J.C. Higginbotham (tb), Pops Foster (b), Paul Barbarin (dm)
https://www.youtube.com/watch?v=nTSsF7VLiM0
New York, May 21, 1930
Hoagy Carmichael (voc), Bix Beiderbecke (crt), Bubber Miley (tp), Tommy Dorsey (tb), Benny Goodman (cl), Bud Freeman (ts), Joe Venuti (vln), Irving Brodsky (p), Eddie Lang (g), Harry Goodman (b), Gene Krupa (dm), Carson Robison (voc)
https://www.youtube.com/watch?v=3sW1Thw1V4k
• Georgia on My Mind, 1930 (Stuart Gorrell lyrics)
Billie Holiday (1941, Lester Young, Eddie Heywood, Shad Collins, Kenny Clarke…)
https://www.youtube.com/watch?v=v6wc41N-GYY
Ray Charles Live in Paris (1961) et Junior Mance, Live in Stuttgart (2002)
https://www.youtube.com/watch?v=pUEu7W6AnWg
https://www.youtube.com/watch?v=Ym6uyJL8kVQ
• Up a Lazy River, 1931
Louis Armstrong à Newport (1958)
https://www.youtube.com/watch?v=Qo3naUxYBi4
• One Morning in May, 1933
Mel Tormé (voc, 1957)
https://www.youtube.com/watch?v=QqUHkBNOTkk

• Lazybones (Johnny Mercer lyrics), 1933 (trad. «Fainéant», en pleine crise économique)
Harry Connick Jr/Johnny Adams, Sony/Columbia (1992)
https://www.youtube.com/watch?v=rF4oz-Zkn5k
• Ballad in Blue, 1935
Hoagy Carmichael (voc, 1956)
https://www.youtube.com/watch?v=9JbemOtc1mY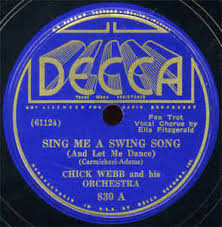 • Sing Me a Swing Song and Let Me Dance, 1936
Ella Fitzgerald/Chick Webb, Decca (1936)
https://www.youtube.com/watch?v=6Vdvut6IgJQ
• The Nearness of You, 1937
Ella Fitzgerald & Louis Armstrong, Verve (1956)
https://www.youtube.com/watch?v=JhaCNIpAnPs
• Old Man Moon, 1937
Cary Grant, Constance Bennett, & Hoagy Carmichael (in Topper, 1937)
https://www.youtube.com/watch?v=kSo4gWoxJdw
• Two Sleepy People (Frank Loesser, lyrics), 1938
Fats Waller (voc, Bluebird, 1938)
https://www.youtube.com/watch?v=Vurli_kCE8c
Sammy Davis, Jr./Carmen McRae, Decca (1957)
https://www.youtube.com/watch?v=qlFZkrLCwSI
• Heart and Soul (Frank Loesser, lyrics), 1938
Joe Williams/George Shearing (Sheba Records, 1971)
https://www.youtube.com/watch?v=wAxYsHOTPEs
• Small Fry (Frank Loesser, lyrics), 1938
Oran Hot Lips Page Orchestra (Blue Bird, 1938, voc)
https://www.youtube.com/watch?v=jVbpb1W9Pbg

• Hong Kong Blues, 1939
Hoagy Carmichael (voc, 1957)
https://www.youtube.com/watch?v=bFxuLnnRbJI

• Blue Orchids, 1939
Teddy Grace (voc, Bob Crosby Orchestra, Decca, 1939)
https://www.youtube.com/watch?v=9-IZGJjYHw0
Sarah Vaughan (Misty, Quincy Jones Orchestra, 1963)
https://www.youtube.com/watch?v=ayWhmHq90yA
• I Get Along Without You Very Well Except Sometimes, 1939
Billie Holiday, Columbia 1958
https://www.youtube.com/watch?v=y109-KfQJFI
• Vagabond Dreams, 1939
Ray Eberle (voc, Glenn Miller and his Orchestra, Victor, 1939)
https://www.youtube.com/watch?v=uABzoePKKP8
• Everything Happens to Me, 1940
Thelonious Monk piano solo, CBS 1964
https://www.youtube.com/watch?v=0K6Cwl6hHNA
Billie Holiday, Verve, 1955
https://www.youtube.com/watch?v=Ve3uJxMiIDw
• Huggin' & Chalkin', 1941
Hoagy Carmichael (voc, with the Chickadees, Vic Schoen and His orchestra, 1947)
https://www.youtube.com/watch?v=KTPW-BPdWmQ
• Skylark (Johnny Mercer lyrics), 1941
Hoagy Carmichael (voc), Pacific Jazz 1956
https://www.youtube.com/watch?v=j7HsGBJjilQ
Art Blakey Jazz Messengers, Riverside (1963)
https://www.youtube.com/watch?v=FRUM-GHQdlw
Aretha Franklin, Columbia (1963)
https://www.youtube.com/watch?v=jHYDafTrpMU
Aretha Franklin, Yeah!, Columbia (1965)
https://www.youtube.com/watch?v=XrneNwk0jww
Aretha Franklin, Thelonious Monk Institute (1997)
https://www.youtube.com/watch?v=lPJX6_cnoRA
Aretha Franklin, Mohegan Sun Arena, Uncasville, CT (2017)
https://www.youtube.com/watch?v=jcsEta84j-A
Ella Fitzgerald Sings the Johnny Mercer Song Book, Verve (1964)
https://www.youtube.com/watch?v=7JLwnfCpz9w
• Baltimore Oriole, 1942
Hoagy Carmichael (voc, 1956)
https://www.youtube.com/watch?v=p7bbcjPvhjE

• Memphis in June, 1945
Hoagy Carmichael (voc, 1947)
https://www.youtube.com/watch?v=CeJngYWJor0

• In the Cool, Cool, Cool of the Evening (Johnny Mercer lyrics), 1951
Hoagy Carmichael (voc, 1956)
https://www.youtube.com/watch?v=by4bIw_nNPw