Jazz in London

© Jazz Hot n°665, autumn 2013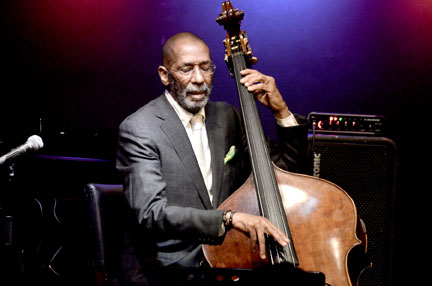 It's not only, or always, the big star names that give you a good night out. There are dozens, maybe hundreds, of small groups, instrumentalists, singers etc., some who have been working hard for years, some who have only just started, but any or all of whom can provide you with a highly satisfactory musical evening that you will remember. Just to give you an example: at Ronnie Scott's, attractive singer/songwriter/trumpeter Sue Richardson appeared there with her excellent band -Neal Richardson (p), Andy Drudy (g) and Georgia Mancio (voc). The audience loved her and I'm sure that a number of sales of her CD from Splash Point Records, the record label she runs with her husband Neal, came from that performance.

Normally, I would think it very hard to be the son of a very, very famous person, but it doesn't seem to bother bassist Kyle Eastwood one little bit. A three-night slot at Ronnie's was as smooth and relaxed as ever. Over to Kings Place and, for me, a new and very interesting band: Kairos 4Tet, Mobo 2011 Prizewinners. Led by Adam Waldmann (sax) with Ivo Neame (p, acc), Jasper Holby (b), Jon Scott (dm), Emilia Martensson and Marc O'Reilly (voc). All most enjoyable. High class guitar work came from Al Di Meola at Ronnie's, backing from Fausto Beccalossi (acc), Kevin Seddiki (g) and Peter Kaszas (dm). Ronnie's again, this time for a "Tribute to Jimmy Smith" led by great funk trombone man Fred Wesley, with Jesse Davis (as), Tony Match (dm), Fabrizio Bosso (tp) and Leonardo Coppadi (org). Much sought after singer/songwriter/sax player Curtis Stigers gets a full weeks booking each year at Ronnie Scott's with a fine backing quartet, Matthew Fries (p), Paul Wells (dm), Cliff Schmitt (b) and James Schofield (g), to the great pleasure of the ladies in the crowd and the adoring fans.

Stopping in at the 606 Club on my way home to be rewarded with a good session from John Hogg (g, voc), with Charlie Morton (dm). Ronnie's once again for two very special nights of the 9 Grammy Award winning Latin pianist hero Eddie Palmieri. Lots of excitement in the audiences, packed as usual. Ending the month at the 606 Club with a really true jazz evening from US tenor sax master George Garzone who is nowhere near as well known as he deserves to be and sadly he was only playing one night in UK; with him, Carlo Ponti (as), Connor Chaplin (b) and Dave Hamblett (dm). I look forward to an early return of George Garzone!



July

began naturally and as usual at Ronnie Scott's with a month of as usual "Sold Out" gigs, beginning with 22-piece Brazilian band Spok Frevo Orquestra making the audiences desperate to dance. Two days later, I went to the club expecting a pleasant evening from Jon Batiste and his "Stay Human" band. I had recently seen Batiste play in a Wynton Marsalis group and found him a first class pianist. Seeing and hearing him lead his own group taking lengthy solos with style of music ranging across the entire ballpark from New Orleans to present day and self compositions was a most entertaining experience. Apart from being a superb pianist, Jon also plays "harmonaboard" and sings. His band, also highly talented, are Eddie Barbash (as, voc), Barry Stephenson (b), Joseph Saylor (dm) and Ibanda Ruhumbiki (tuba, tb). To catch the final number where the band leaves the stage and marches around and through the audience led by Jon with his "harmonaboard" was an evening to be relished. Very sadly the booking was only for one night but I look for more soon. Then, two nights of pianist, vocalist and 2 Grammy Award winning Diane Schuur. On her second night, Ronnie's held a very late night set to feature US drum star Chris Dave in a quartet with Marcus Strickland (sax), Nick McNack (b) and Isiah Sharkey (g). In spite of the very, very late hour, the crowds flocked in to catch a glimpse of Dave's sparkling techniques. This was followed by four nights of another double Grammy Award winner, top vocalist Cassandra Wilson. Last year, I saw Roberto Fonseca at the club with a great deal of pleasure. This year, the fiery Cuban pianist, composer and ex-member of the Buena Vista Social Club was even better, backed by a tight rhythm section. He offered a most impressive performance. Then, three exclusive nights for Brazilian legend multi-instrumentalist Hermeto Pascoal playing percussion, accordion and rubber ducks! Followed by three nights of Wynton Marsalis, with Walter Blanding (sax), Dan Nimmer (p), Carlos Henriquez (b) and Ali Jackson (dm), played a wonderful selection of music covering everything from Jelly Roll Morton to Thelonious Monk to Ornette Coleman and up to date Marsalis. Superb value for money. Guitar legend, with 19 Grammy nominations, Lee Ritenour, joined by Dave Gruisin (key), Tom Kennedy (b) and Chris Coleman (dm). Ritenour, who has played with everyone from the Mamas and the Papas, to Sonny Rollins, Pink Floyd and Frank Sinatra to name but a few, spent three nights demonstrating his talents to an appreciative audience. The Cockpit Theatre in Kilburn had a nice trio of gigs, starting with a new young group called Trio Riot, followed by a delightful solo session from violinist Chris Garrick, then the main attraction, multi reeds player Steve Williamson who, regretfully, is not seen as often as he should be, here backed by Pat Thomas (p) and Roger Turner (dm). Last show of the month at Ronnie's found true Legend, 84-year old master drummer Jimmy Cobb, who played with Miles Davis on Sketches of Spain, Kind of Blue etc. Here leading "Jazz Heads" with Pee Wee Ellis (ts), Grant Greene, Jr., (g) and Ike Stubblefield (org). Final call going home to the 606 Club for vocalist Zoe Francis with Robin Aspland (p) and Martin Shaw (tp). Altogether a really terrific month.



August

opened at Ronnie's with a four-night residency of the 91-year old true master innovator of jazz vocals Jon Hendricks, still as full of life as ever, and never staying in the background of his group. Alongside him were Aria Hendricks, Kevin Burke (voc), Paul Meyers (g), James Pearson (p), Jeremy Brown (b) and Matt Skelton (dm). When all the excitement of the set seemed to be over, it was all increased when Jon was joined on stage by UK singer Ian Shaw and then, to the surprise and delight of all those present, by Van Morrison for three songs. The next two nights were performed by UK jazz/funk band Incognito. Now celebrating 25 years in the business, the eleven-piece band is led by Jean-Paul "Bluey" Maunick (g). Following this, a four-night booking for the "Green Onions" man himself Booker T Jones on Hammond B3. Pizza Express offered Mike Hobart's "Urban Jazz Collective", led by Mike on saxes, with Chris Lee (tp), Sven Atterton (b), Raphael Bushman (p) and Boukie Baboukie (dm), playing many numbers from their latest album The Third Fish. At the Vortex in North East London, pianist composer Keith Tippett took a three-night residency to cover all of the styles of his musical spectrum opening with a fully improvising trio then to an octet performing other Tippett pieces all with Irish themes. On the last night, he was joined by his wife Julie Tippetts (voc) and by three members of the Elysian Strings. Back at Ronnie's to hear top bassist Ron Carter who was in an impressive form with his "Golden Striker Trio", backed by Russell Malone (g) and a new pianist Donald Vega. Carter is simply a master of his instrument. Pizza Express found superb UK pianist Gwilym Simcock offering a "Tribute To Jaco Pastorius". Immaculate playing as ever. Ronnie's had two nights of Brazilian singer/pianist/composer Tania Maria, then two exciting nights of wild man, super star drumming legend Ginger Baker with his "African Jazz Confusion", accompanied by Pee Wee Ellis (ts), Alec Dankworth (b) and Abas Dodoo (perc).

Lots of good things this quarter, but other than Wynton Marsalis and Roberto Fonseca, for my personal taste and pleasure, Jon Batiste and Ron Carter were the outstanding evenings.

David Sinclair
Photo credit and caption, fly over the photo